This week we review the answers to the first 6 questions from the 5th annual UMEM Residency ECG Competition.   Make sure to attempt to answer the questions before clicking the red box to reveal the answers and teaching pearls!
Video review of each ECG Case:
Key Teaching Points
Question 1. List up to 16 causes of ST-segment elevation (1 point for every 3 you list; bonus point for all 16; max 6 points).
16 causes of ST-segment Elevation
Acute myocardial injury (ACS or trauma)
Vasospasm
Early Repolarization
Myo/pericarditis
Ventricular aneurysm
Hyperkalemia
LBBB/pacemaker
LVH/high left ventricular voltage
Pulmonary embolism
Brugada syndrome & mimics
Hypothermia
Post-cardioversion (stunning)
Takotsubo cardiomyopathy
Intracranial abnormalities
"Spiked Helmet" sign
Hypercalcemia
Question 2. Name 6 causes of ST-segment elevation in lead aVR that are NOT related to an acute coronary occlusion (i.e. not left main, triple vessel, or proximal LAD artery disease). (max 3 points)
Differential for ST-segment elevation in aVR (with multilead ST-depression)
Acute coronary syndromes

Left main coronary artery insufficiency
Proximal left anterior descending artery insufficiency
Triple vessel disease

Other causes of global cardiac ischemia

Thoracic aortic dissection
Large pulmonary embolism
Severe anemia
Post-arrest (within 15 mins of epinephrine or defibrillation)

Miscellaneous causes

Supraventricular Tachycardia (esp. AVRT)
Left bundle branch block (LBBB) & paced rhythms
LVH with strain (from severe hypertension)
Severe hypokalemia
Na+ channel blockade (TCA toxicities, hyperkalemia, Brugada, etc.)
Question 3. Name 4 ECG signs of right heart strain that might be found on the ECG of a patient with massive PE. Note that sinus tachycardia is too nonspecific…don't bother listing that! (max 2 points)
ECG findings in Pulmonary Embolism
Sinus Tachycardia
Atrial and ventricular dysrhythmias
Signs of right heart strain
Rightward axis (look for large S wave in lead I)
New RBBB or incomplete RBBB
New T-wave inversions (especially in anteroseptal +/- inferior leads)
ST-segment elevations or depressions

ST-elevation in rightward leads (V1, V2, aVR, III)
Question 4. Name causes for a rightward axis (1 point for every 3 you list; max 3 points)
Causes of Rightward Axis Deviation
Ventricular ectopy (VT)
Right ventricular hypertrophy
Pulmonary HTN – Acute (PE) & chronic lung disease (COPD)
Left posterior fascicular block
Hyperkalemia
Na+channel blocker toxicity
Lateral MI (from Q-waves in lead I)
Dextrocardia (situs inversus)
Lead misplacement
Newborn/infants
Question 5. A 38-year-old man presents with sharp chest pain and the ECG below is obtained. In deciding between STEMI vs. pericarditis, name 2 findings which strongly favor the correct diagnosis over the other. (2 points)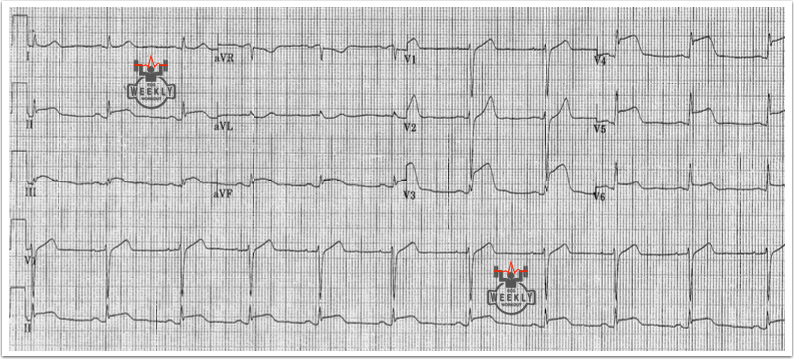 ECG findings in Pericarditis vs. STEMI
Know the differences in ECG findings & use a stepwise approach
Step 1. Factors that strongly favor STEMI:
Reciprocal ST depression in any leads (except aVR & V1)
Horizontal or convex upward ST-segment morphology
STE in lead III > the STE in lead II ​​​​​​​​
R-T sign or "checkmark sign"
Q-waves that youknow are new​​ (be cautious it they are old)
 Look for the factors that rule in STEMI before thinking pericarditis! 
 Step 2. Factors that suggest pericarditis (only after step 1):
Pronounced PR-segment depression in multiple leads
Spodick sign (TP segment downsloping) – may be useful after considering all the other factors above, but be wary as new research suggests it may be seen in both STEMI and pericarditis. Not sensitive or specific!
When in doubt…do serial ECGs and consider CATH!
Question 6. A 45-year-old woman presents feeling weak, with the ECG shown below. What is the diagnosis? (1 point) Name 4 typical ECG findings associated with the diagnosis. (2 points)

ECG findings in severe hypokalemia
U-waves (can be very large)
Prolonged QT-interval (T-wave/U-wave fusion)
Flattening of the T-waves, then ST-segment downsloping/depression
Biphasic T-waves that deflect down before going up "reverse Wellens' waves" a.k.a. "NikEleKam T waves" are caused by severe hypokalemia that prolongs the QT interval because of large U-waves.
ST-segment elevation in aVR
PVC's, ventricular dysrhythmias
Notes: Questions for Amal? Email him at amalmattu@comcast.net or find him on Twitter @amalmattu.