HPI:  A 65-year-old man presents to the ED with substernal chest pain that radiated to the back and is associated with nausea. An ECG is obtained on arrival and is interpreted as normal. While obtaining a history, the patient becomes unresponsive and has a witnessed ventricular fibrillation arrest that responds to chest compressions. His post arrest ECG showed inferior STEMI.
Case ECG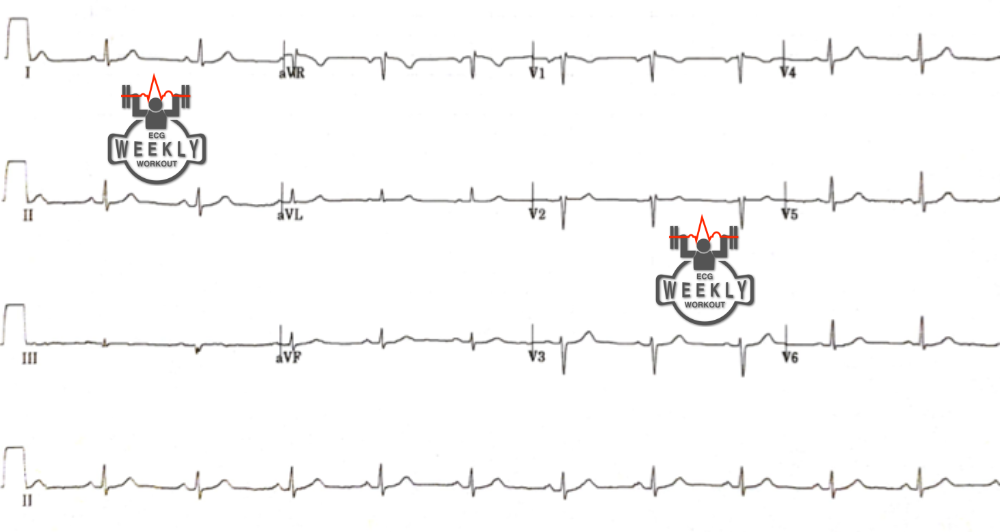 Before watching this week's video, ask yourself these questions:
How frequently will patients with STEMI present with an initially normal ECG?
How accurate is the post-ROSC ECG in predicting STEMI?

 

In which post arrest patients is emergent cath lab activation indicated?
Case Interpretation
Key Teaching Points
Post-arrest survivors
Key point: post-arrest patients benefit from urgent cath unless there is an obvious non-cardiac cause
STEMI patients post-arrest should go to the cath lab (Class IB in national guidelines, 2013)
Non-STE ACS patients that develop hemodynamic or electrical instability (e.g. VT/VF arrest should have urgent cath (Class IA, 2014)
STEMI patients post-arrest who remain comatose should go to the cath lab unless they have multiple unfavorable resuscitation features (Rab et al., 2015)
NSTE-ACS patients post-arrest who remain comatose should be assessed for unfavorable resuscitation features and urgent cath should be considered. Immediate consultation with cardiology and intensive care is recommended (Rab et al., 2015)
Take-home Points:
Post-arrest STEMI should have cath lab activation, with consideration of survival benefit/risk ratio, especially if multiple unfavorable resuscitation features are present
Post-arrest non-STE ACS should strongly consider cath lab activation after assessment for unfavorable resuscitation features, consult interventional cath.

 

ACS can occur in the presence of a NORMAL ECG!
References:
Notes: Questions for Amal? Email him at amalmattu@comcast.net or find him on Twitter @amalmattu.
Kudos:  Thanks to Drs. Michael Gulenay & Kevin Taylor for sharing this week's case!