Case ECG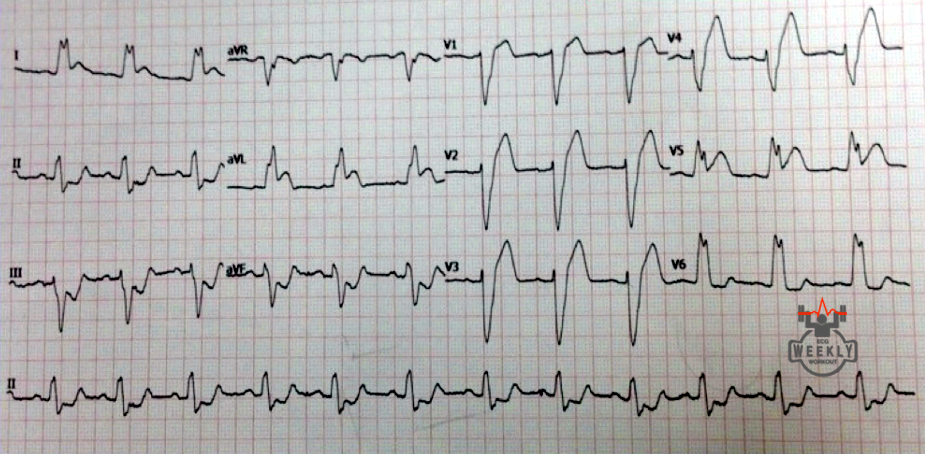 Before watching this week's video, ask yourself this question:
What do you consider to be the acceptable miss rate for deadly ECG findings?
Case Interpretation
Case interpretation
Case 1: LBBB and AMI
Which patients with LBBB need emergent reperfusion therapy?
Sgarbossa A & concordant STE = AMI
Sgarbossa B & concordant STD in V1, V2, or V3 = AMI
Revised Sgarbossa C & discordant ST segment > 25% size of R or S wave = AMI (pending validation study)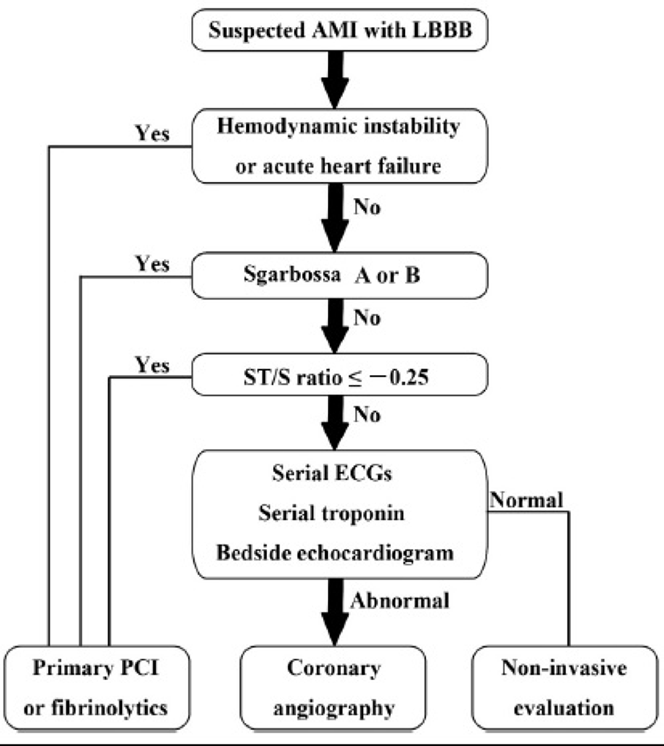 For more on this, review the case from June 1st, 2015

Case 2: Atrial Fibrillation with WPW
Very rapid, irregularly irregular tachycardia
Rates may approach 250-300 bpm or higher
Variable QRS-complex shape and width
Often misdiagnosed as SVT, VT, or A.fib with aberrancy
AV nodal blockers (BB/CCB's, Digoxin, Amiodarone, etc.) can cause V.fib & death
​Avoid all AV nodal blockers in Atrial fibrillation with WPW!

Case 3: Septal STEMI vs Hyperkalemia?
ECG findings in Hyperkalemia
Peaked T-waves
Widening of the QRS (often marked)
Prolonged PR-interval
Flattening and eventual loss of P-waves
Tachydysrrhythmias
Advanced AV Blocks and sinus pauses
Fascicular & Bundle Branch Blocks
Pseudo ACS with ST-segment changes (can mimic STEMI with focal STE!)
Pseudo Brugada syndrome pattern
Sine wave morphology
Beware…Hyperkalemia does whatever it wants to the ECG!
 For more on hyperkalemia, review the case from Jan 12th, 2015
Case 4: Ventricular Tachycardia vs. AIVR
Accelerated idioventricular rhythm (AIVR) is a relatively benign reperfusion arrhythmia
It often occurs during reperfusion with thrombolytics after MI
True ventricular tachycardia typically has a rate > 120 bpm
Case 5: Syncope & Anteroseptal ST-segment Depression
 Differential for ST-depression in anteroseptal leads
Anteroseptal ischemia
Posterior STEMI

Mirror image of septal STEMI in leads V1-V3
Look for tall R waves, ST-depression, and upright T waves in V1-V3 on conventional 12 lead ECGs
Even 0.5 mm of STE on posterior lead ECGs is diagnostic

Miscellaneous
 ST-depression in the anteroseptal leads might represent posterior STEMI. Get posterior leads!
Case 6: Really Wide Complex Tachycardia
When the QRS complex is really wide (> 1 big box or 200 ms) think of tox. and metabolic etiologies (ex. hyperkalemia and severe acidosis)
Consider empiric treatment with Calcium & Sodium Bicarbonate!
 For more about Na2+ channel blocker toxicity, review the case from Feb 23rd, 2015
Case 7: Bizarre Bradycardia
Remember that hyperkalemia can also cause bizzare bradycardias and AV blocks
When dealing with a bizarre rhythm that is not responding to ACLS therapy, consider empiric treatment for hyperkalemia!
Case 8: Low Voltage
Low Voltage Definition
Specific Definition

QRS amplitudes in limb leads all < 5 mm OR in all chest leads < 10mm

Sensitive Definition

QRS amplitudes in I+II+III < 15 mm OR V1+V2+V3 < 30 mm
Low Voltage QRS Differential
"Low Power"

Myxedema (severe hypothyroidism)
Infiltrative diseases (Amyloid, Sarcoid, etc.)
End stage cardiomyopathy​

Conduction blockage

Fluid/Effusion (pericardial or pleural)
Fat (obesity)
Air (COPD)
 New low voltage ECG + Tachycardia = Pericardial effusion until proven otherwise!
Avoid anticoagulants until pericardial effusion is ruled out.
For more, review the case from April 6th, 2015
Kudos:  Congratulations to all the 2015 Emergency Medicine Residency Graduates!
Notes: Questions for Amal? Email him at amalmattu@comcast.net or find him on Twitter @amalmattu.